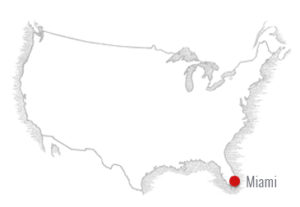 Radiant blue waters, miles of beautiful shoreline and, a style that is as trend-setting as it gets, Miami is a multi-cultural community you will want to be part of. An entertainment Mecca, it's no wonder visitors, celebrities, travelers and locals alike love living here.
Miami offers a dazzling array of amenities so, you will never get bored and run out of things to do. The culture has certainly influenced the city's architecture with downtown Miami considered one of the most historic of neighborhoods. Miami really does have a lot going for it – a city full of commerce, culture, education, entertainment and so much more. Several of Miami's public high schools are ranked within the top tier in the US and there are many private school choices.
These institutions include The University of Miami, Miami Dade College and Florida International University. There are many reasons why people love the great city of Miami, sunny skies, diverse culture and unique employment opportunities offering excellent future job growth. Endless options for entertainment and recreation, residents enjoy a lively shopping scene; boating, fishing and of course, the beach.
Could Miami be your next home? We are pleased to offer properties in some of the most sought-after locations and we encourage you to explore the communities listed below. Let our informative website be your premier property search resource. We are experienced based, client focused and results driven – let our quality customer service guide you every step of the way.
Search Listings:
Brickell | Coconut Grove | Coral Gables | Downtown Miami | Miami Beach | Miami's Design District